Your Complete Wireless Lav System
Achieve great-sounding presentations with Sennheiser's ew 112 G4. This all-inclusive wireless system includes an inconspicuous ME 2-II omnidirectional lav mic that's designed to reproduce speech naturally. You also get a bodypack transmitter and an easy-to-set-up rackmountable receiver. This system is highly expandable — you can link up to 12 receivers for simultaneous setup. On top of that, you'll benefit from a 330-foot transmission range and up to 8 hours of operation. The ew 112 G4 is backwards-compatible with previous evolution G1, G2, and G3 systems, ensuring that your past investment continues to pay off into the future.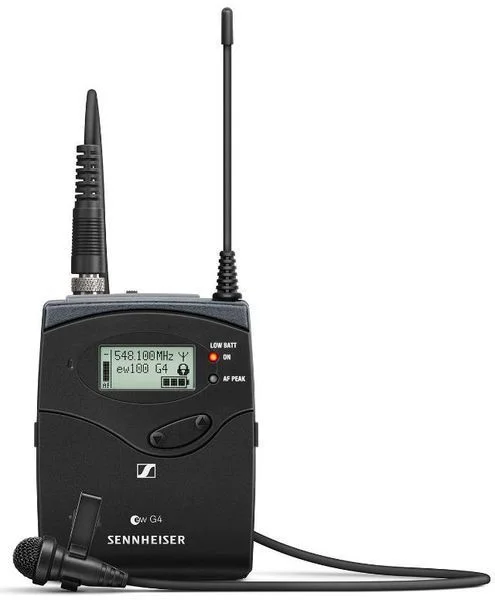 Pro-quality wireless sound at a great price
The stage is yours — large venue or small. No matter what, when, or where you're presenting, the ew 112 G4 gives you pro-standard sound support. Sennheiser's evolution wireless G4 series delivers the same advanced technology used in TV studios and huge international conference halls, at an amazing price.
Ideal for theater and presentation use
The ew 112 G4 is ideal for theater and presentation use. Its ME 2-II clip-on lavalier microphone is virtually invisible. The extremely small SK 100 G4 bodypack transmitter and EM 100 G4 rackmount receiver feature an enhanced frequency bank system with up to 12 compatible frequencies.
Complete wireless system with everything you need
The ew 112 G4 gives you everything you need for successful wireless performance: mic, bodypack transmitter, rackmount receiver, and accessories. You don't need additional components. Sweetwater knows you want a hassle-free wireless experience, with pro performance and ease of use. With the Sennheiser ew 112 G4, you get it.