POWER BEYOND IMAGINATION
The Inspire 2 is DJI's next advancement in professional aerial video and photo cinematography. With revolutionary new sensors, cameras, and intelligent flight features, the Inspire 2 is DJI's definitive professional aerial filmmaking solution that is capable of capturing footage worthy of any cinematic masterpiece. Whether you are looking to get an aerial perspective of a dramatic car chase or a thrilling action scene, the DJI Inspire 2 will take your footage to the next level.
---

---
POWERFUL CINEMATIC VISION
The DJI Inspire 2 combines quality, innovative design, and state-of-the-art intelligence all in one ready-to-fly system that will exceed the expectations of both filmmakers and commercial enterprise users. The DJI Inspire 2 can record up to 6K in Cinema DNG/RAW or 5.2K in AppleProRes with the new Zenmuse X7 camera and the upgraded CineCore2.1 image processing system. With an enhanced FlightAutonomy system, the Inspire 2 is equipped with two directions of sensor redundancy and obstacle avoidance. An onboard FPV camera also enables operators to have more control over their piloting and camera operation to further enable users to capture the exact aerial masterpiece they envision.
---

---
ENHANCED DESIGN
The newly enhanced DJI Inspire 2 is expertly crafted with a high-quality magnesium aluminum composite shell and transforming carbon fibre arms that are lightweight and durable in the air. The Inspire 2 uses DJI's patented Lightbridge technology for a strong connection and range of up to 7 km for more freedom to fly. Users can also switch between both 2.4 GHz and 5.8 GHz frequencies to ensure the strongest signal possible with the least amount of interference. The system supports multiple slave controllers and also features an extension port, HDMI port, and USB port, for added customizability.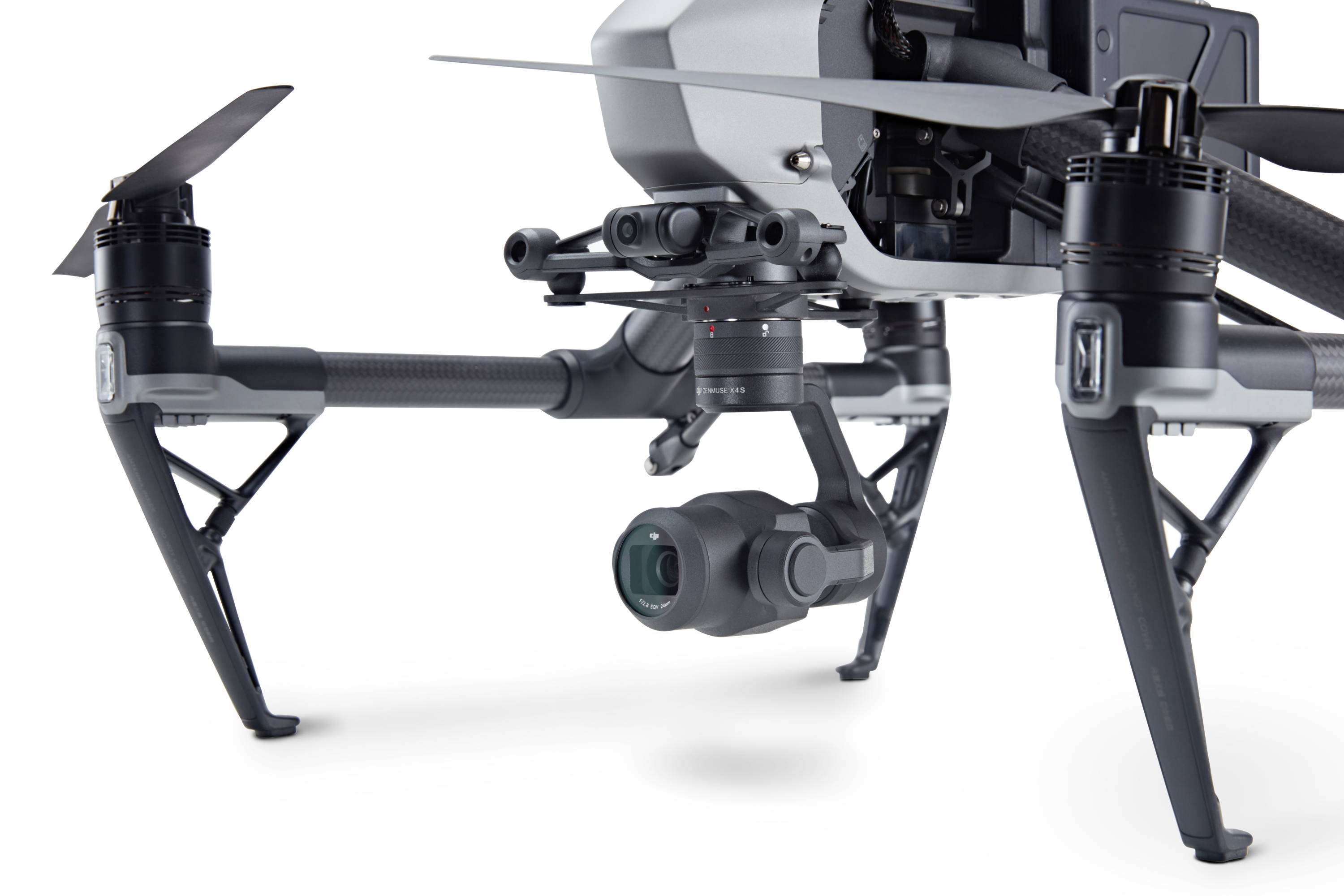 ---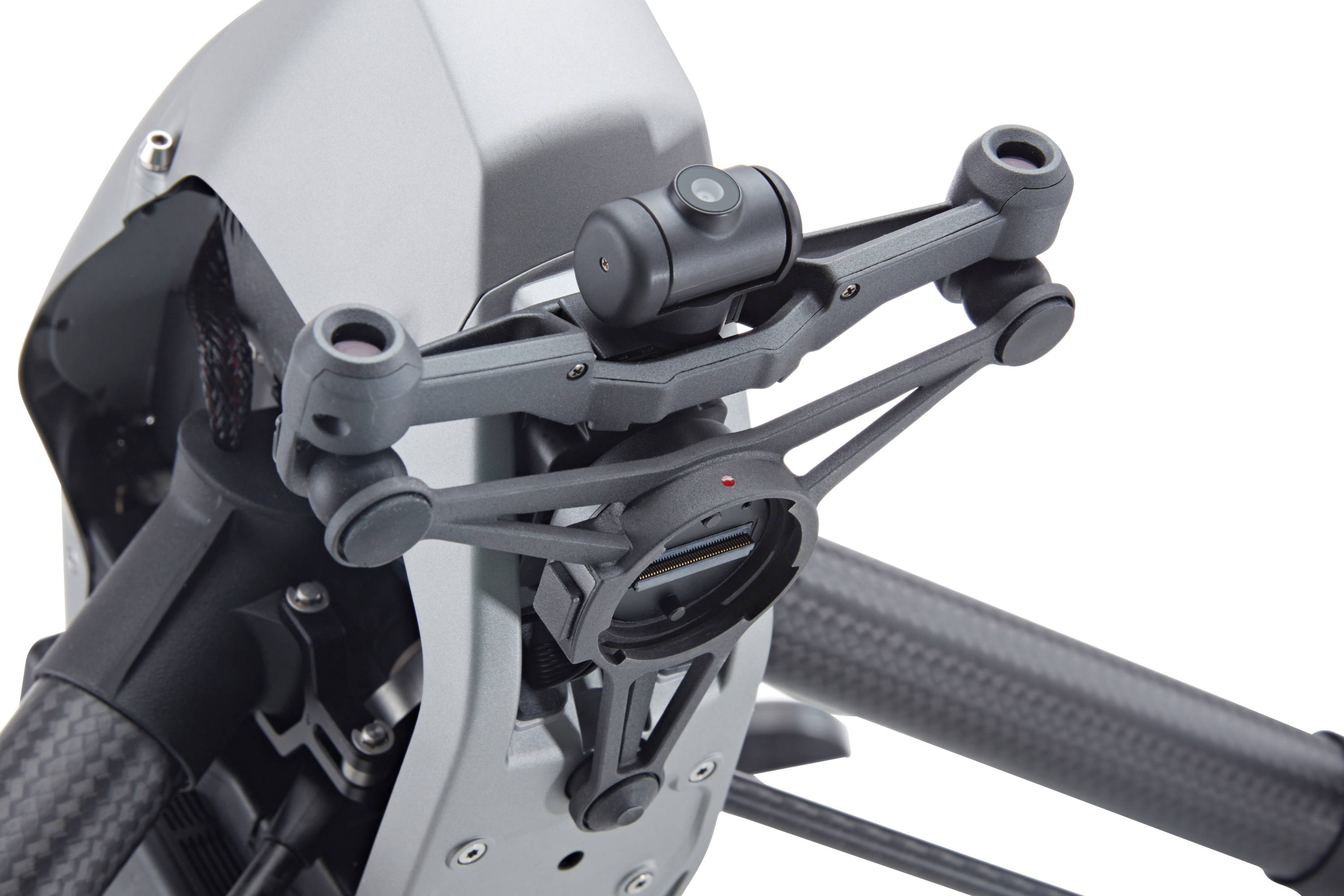 POWERFUL PERFORMANCE
The Inspire 2 has been designed with an all-new propulsion system that provides pilots with a whole new level of flight performance. The Inspire 2 aircraft can fly up to 94 kph, can ascend 6 m/s and descend at 9 m/s. The drone can also accelerate from 0 to 80 kph in only 5 seconds at a maximum angle of 40°, making it the ideal aerial platform for shooting fast-moving scenes, action footage, and sports. With more power, the Inspire 2 can fly in extreme environmental conditions including temperatures as low as (-20°C) thanks to the drone's self-heating intelligent dual-battery system.
---

---
INTELLIGENT SENSE AND AVOID
The Inspire 2 has been enhanced with a comprehensive obstacle avoidance system to provide pilots with added safety and precision in the air. The Inspire 2 is designed with both forward, upward, and downward facing vision sensors that can detect objects up to 30 metres ahead of its path. The drone can also fly at speeds up to 54 kph at a controllable attitude angle of 25° while actively avoiding obstacles. The Inspire 2's upward facing infrared sensors can detect obstacles 16 feet above itself which gives the drone added safety when flying indoors. Users will be fully protected by the Inspire's intelligent obstacle avoidance system in normal flight modes, Return to Home mode, and all intelligent flight modes.
---

---
INCREASED RELIABILITY
The Inspire 2 has been designed with added reliability in the air through dual redundancy of key modules including the drone's barometer and IMU. In addition, the intelligent flight control system intelligently monitors the Inspire's redundancy system to ensure accurate flight data. The Inspire 2 also features a dual-battery system that gives the aircraft added safety in the air, if a problem occurs or if a battery fails in flight the drone can continue to fly long enough to safely land. With the dual-battery system, improved propulsion system, an obstacle avoidance system, the Inspire 2's overall reliability is significantly enhanced.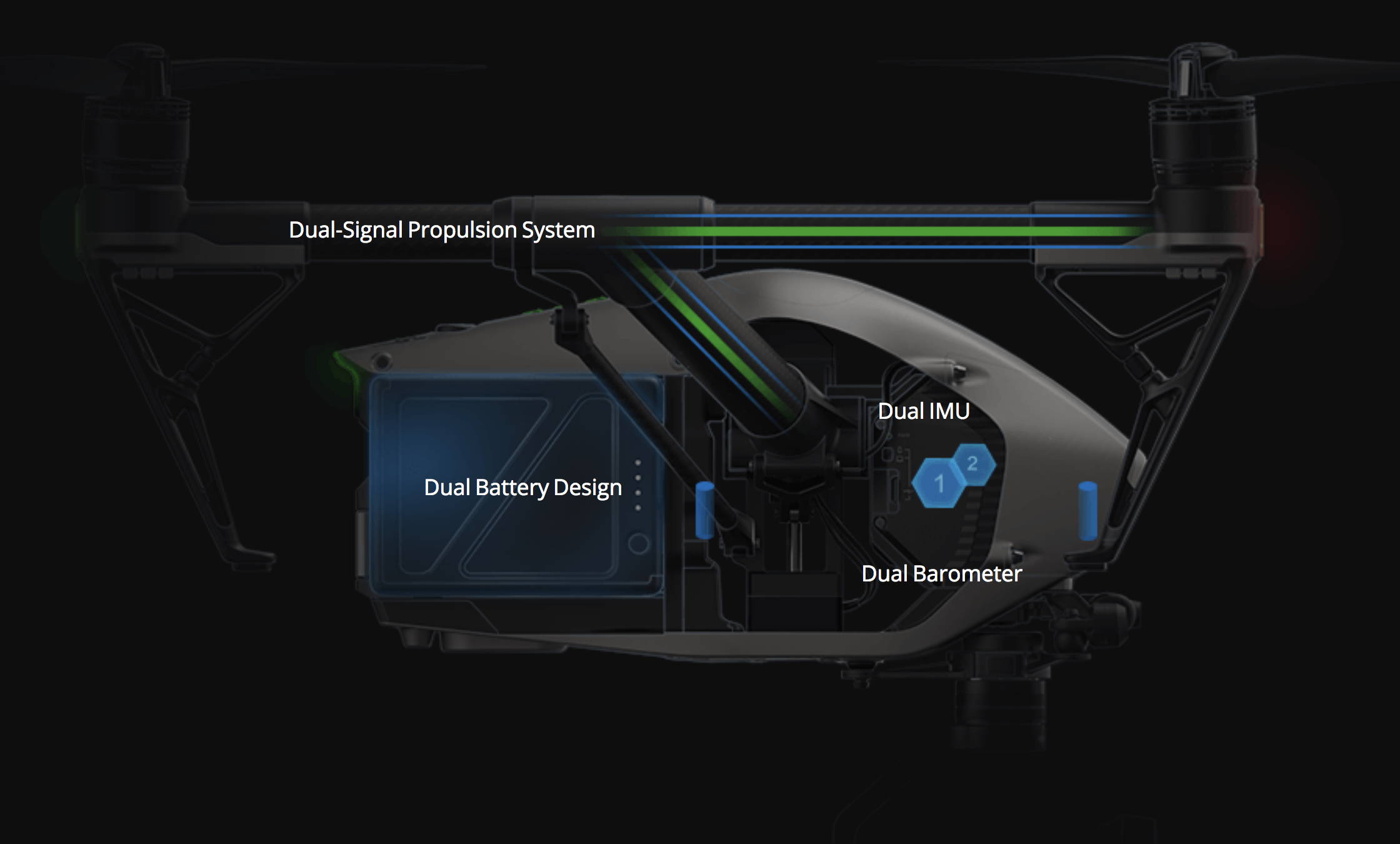 ---

---
PROFESSIONAL IMAGE QUALITY
The Inspire 2 is specifically designed to meet the demanding needs of professional filmmakers. With the new Zenmuse X7 camera, the Inspire 2 is capable of recording 6K video at 4.44Gbps CinemaDNG, 5.2K at 2.08Gbps with AppleProRes, and H.265/H2.64 at 100Mbps. The new CineCore 2.1 is also able to support burst shots capturing 10 total JPEG and DNG bursts as well as continuous DNG bursts at 20fps (24-megapixels per shot.) The Inspire 2 can currently be equipped with the Zenmuse X4S, Zenmuse X5S, and Zenmuse X7 cameras.
---

---
---
INTELLIGENT FLIGHT MODES
Pilots can take dynamic and creative shots with a simple tap on their screen thanks to the Inspire 2's wide range of advanced intelligent shooting and flight modes. In Waypoint, and Point of Interest flight modes obstacle avoidance is activated to ensure complex shots are easy to carry out and repeat. The Inspire 2 also features TapFly, ActiveTrack, and QuickSpin flight modes to make traditionally challenging shots as easy and smooth as possible.
---
---
Spotlight Pro is a dynamic intelligent flight mode that enables users of any level to capture stunning, and powerful tracking shots. By using intelligent visual-tracking algorithms that will lock onto a selected object, pilots can have their drone fly in any direction while the camera keeps the selected subject centre frame, a challenging shot that would traditionally take both a dedicated camera operator and drone pilot to carry out. Spotlight Pro features two different shooting modes including Composition Mode and Quick Mode. In Composite Mode, pilots can choose a subject and the tracking position. When the selected subject is in tracking position users can start tracking. In this mode, the drone's gimbal can be moved during shooting for any shot adjustments. In Quick Mode, users can easily select a subject and have the drone automatically track it.
---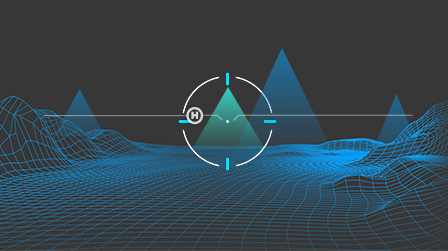 ---
TAPFLY
In TapFly Mode pilots can simply tap anywhere on their screen and have the drone fly in that direction. With the onboard 2-Axis FPV camera, users can separate their flight view from the main camera to give pilots a dedicated TapFly camera.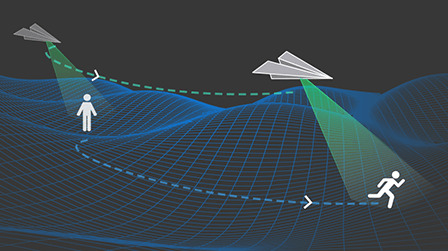 ---
ACTIVETRACK
The Inspire 2 has been trained to recognize a wide range of subjects including vehicles, bikes, and people. In ActiveTrack Mode users can have the Inspire 2 automatically lock onto a selected subject and automatically fly while keeping the subject in frame.
---
SMART RETURN-TO-HOME
With the Inspire 2's new obstacle avoidance system that includes both forward and downward facing vision sensors, the drone is able to create real-time maps of its environment and flight route for added safety in Return-to-Home mode. The Inspire 2 will automatically fly along the same route back to its launch site in Smart Return To Home Mode to safely avoid obstacles on its way home. The drone can use its main camera to detect obstacles up to 200 metres in front of its path to plan a safe route home and prevent any potential crashes from occurring.
---